Welcome
Welcome to Punta Palascìa, the easternmost point in Italy.  Situated in the breath-taking area of Salento, this little piece of paradise stems from the forces of nature. For hundreds of years people have tried to tame it, to inhabit it and to harvest it.  It exists today as a fertile land for those who have cared for and respected it in time-honoured traditions and is appreciated by locals and tourists alike.  Immerse yourself in the colours, scents and sounds of your lush surroundings. Witness thousands of changes in nature from sunrise to sunset.
Our Location
Situated on the coastline 3 km south of Otranto, in the direction of Leuca, Agriturismo la Palascìa is the perfect base for touring all of Salento's beautiful locations.  Nestled between the sea and the countryside, there are countless stunning routes you can take whether you're travelling by car or bike, on foot or on horseback. Heading south, there is 45km of high, rocky coastline scattered with sun-drenched coves, while to the north, long stretches of sandy beach await you.
Geographic coordinates
Latitudine N 40° 6'38.19″
Longitudine E 18°30'28.19″
The Estate
Agriturismo la Palascìa takes its name from the wonderful place where it sits: Punta Palascìa. Commonly called the Cape of Otranto, it is the easternmost point in Italy and is known as the gateway to this spectacular stretch of coastline from Leuca to Tricase Forest Natural Park, which covers 3227 hectares.
Our story
Valentina and Giuseppe met while studying and working together on their shared passion of archaeology.  Their mutual love of history and respect for the past fuelled a project of restoration and refurbishment, the result of which lies in this beautiful farmhouse.  More than just a means of making a living for them, the remodelling of the estate became the focal point around which they built their way of life.  For them, THE ESTATE is a symbolic representation of the landscape, culture and community they grew up within.  Lovingly restored with the true essence of Salento in mind, the farmhouse offers year round accommodation to those looking for authentic PARK EXPERIENCES whether as part of a weekend getaway or a longer stay.
THE ESTATE - ANTICA MASSERIA L'AGRESTE
Our beautiful farmhouse, Masseria L'Agreste  is constructed around another ancient building, Masseria Cippano with its tower, outhouses and courtyards.
This farmhouse, dating back to the 18th century, is one of the largest in the area.  Until its recent restoration, it was originally the home and family business of Valentina's grandparents.  Valentina, together with her husband Giuseppe, oversaw its transformation and they now continue to run the business.  The farmhouse was given the name Agreste, meaning rustic, which speaks of its raw, natural beauty but is also a nod to the difficulties of this terrain.  Sun-scorched and perched on the rugged coastline, unprotected from the north wind, it was traditionally a harsh place to live and work.  A wild place, untamed by man, which is precisely the reason for its truly unique beauty.
Come in any season, one more stunning than the next, where you'll experience the intoxicating scents and ever changing shades of the Mediterranean. Cast your eyes around and upward to see the wildlife, encapsulated by nature, and feel closer to heaven than ever before…
SUITE ROOMS
Originally the old barn house and featuring a split level design, the suites are equipped with a double bed on the first level and an additional small double on the mezzanine floor, ideally suited to children over 6.  The rooms are comfortable and tastefully decorated with natural wood and exposed Lecce stonework.  All our suites are on the first floor, with a private external entrance and terrace access. Private bathroom with shower.
Suite del Sole
It is west oriented and is equipped with a small porch of exclusive use in front of the entrance
from 105€

Details Gallery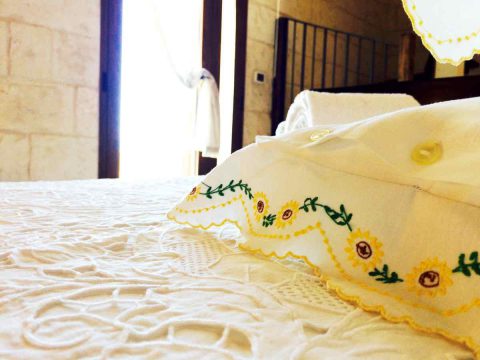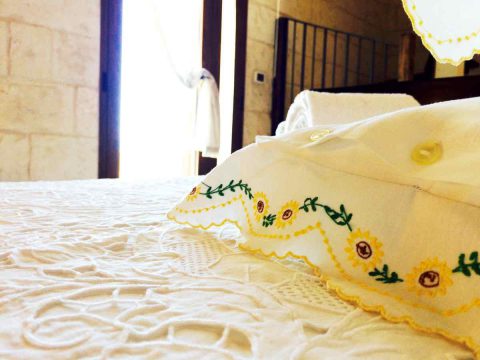 Nido del Gheppio
It overlooks the terrace. French bed is on the wooden loft
from 105€

Details Gallery
STANDARD ROOMS
Our simple, elegant standard rooms are located within the restored stable area of the farmhouse and offer all modern comforts with a traditional twist. The rooms come equipped with a double bed and private bathroom.  They are located on the ground floor with views of the garden.