Welcome
Welcome in Punta Palascìa, the most eastern point of Italy. Among the most suggestive of the Salento area, this corner of paradise is the result of the millenary action of water, wind and men who have been trying hard for centuries to live it, work it and adapt it to their needs. Today it is a place among the most appreciated by tourists, sportsmen, artists who immerse themselves in its light with a thousand shades, assisting the rise of the first sun and its sunset, in a constant dialogue with Mother Nature
Where we are
Situated in the countryside 3 km south of Otranto, along the coastal road leading to Leuca, Agriturismo la Palascía is in a strategic position to easily reach the main sights of Salento and the major points of interest. Around us, sea and countryside set up a landscape that has no equal. It is possible to discover it every day by following small paths by bike, mountain bikes, on foot or horseride enjoying the beauties of these places in all seasons. The coast is high and rocky for 45 km south, with beautiful sunny coves. Towards the north the beaches and the sandy coastline
Coordinate Geografiche
Latitudine N 40° 6'38.19″
Longitudine E 18°30'28.19″
Agriturismo
Agriturismo la Palascía takes its name from the wonderful place where it stands: Punta Palascia. Commonly known as Capo d'Otranto it is the most eastern point of Italy, where the Natural Park "Costa Otranto – S. Maria di Leuca e Bosco di Tricase" extending for 3227 hectares.
Mission
Valentina and Giuseppe met by sharing the love for the past and the passion for archeology, for which they have studied and worked. Now the past revives every day and their Agriturismo is for them a means to convey their knowledge and passions. The promotion of the landscaping context in which the Masseria stands and where they have chosen to return living is their mission. In this view of development and regeneration of Salento rural heritage, they start to restore ANTICA MASSERIA AGRESTE. Renovated to give hospitality to those who, like them, want to grasp the true essence of a territory, the Masseria is open all year for a weekend out of the ordinary or for longer periods of holiday made of EXPERIENCES IN THE NATURAL PARK
MASSERIA L'AGRESTE
The Masseria, one of the largest in the area, dates back to the 1700s and was used until recently as a residence and a place of production by the materna l and paternal grandparents of Valentina who now leads with Giuseppe the farm. The name Agreste remembers a rural and pleasant context, but also wild and unspoilt, a difficult place to work and live. It is still today a harsh area, burned by the summer sun, beaten by the south and north winds, where people have had to struggle to create a life prospect, a barrier-free frontier site hardly modifiable… and that is precisely why of a unique and uncontaminated beauty. In all seasons there are different shades of light and color, the smells of Mediterranean plants are inebriating and the birds of prey are loyal companions of walk marking the step from the sky ..
SUITE ROOMS
The suite rooms were the old barn. Today they are comfortable rooms with a double bed and a french bed (or single beds) on the wooden loft ideal for children (> 6 years). The stone on sight, the neatness in furnishings and natural wood make the rooms rela x and handy. The suite rooms are located on the first floor of our farm reachable by a stone stairs and have access to the terrace. Private bathroom with shower.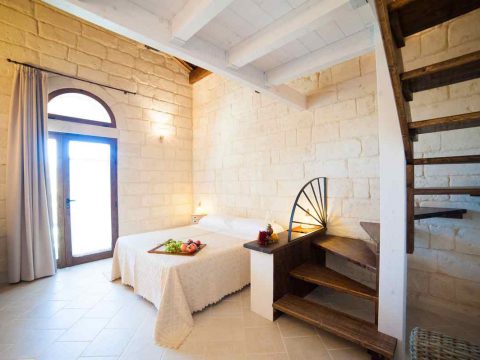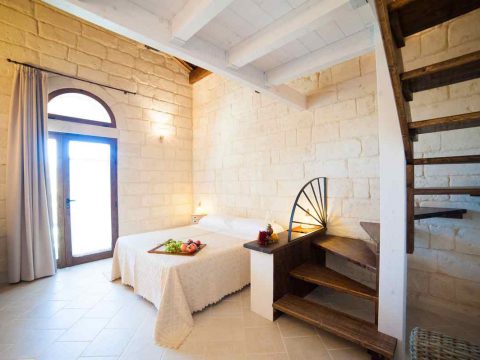 Suite del Sole
It is west oriented and is equipped with a small porch of exclusive use in front of the entrance
from 95€

Details Gallery
STANDARD ROOMS
Here there was the ancient sheepfold, completely rebuilt. The rooms have a double bed and a private bathroom. Simplicity and essentiality are thread between present and past. They are located on the ground floor of our farm and overlook the Mediterranean garden.
EXPERIENCES IN THE NATURAL PARK